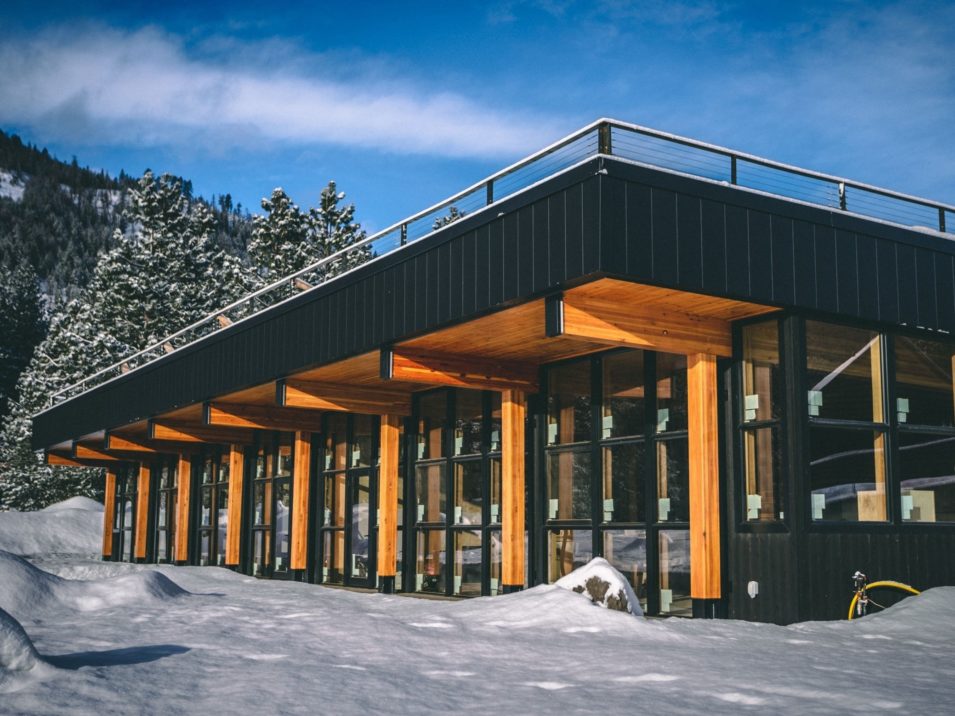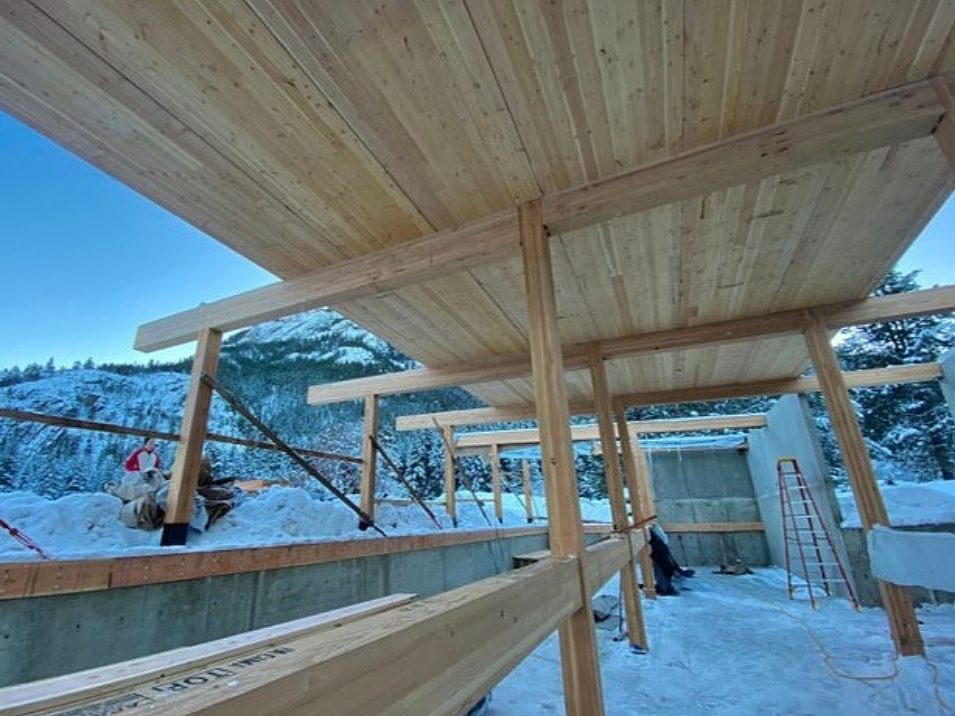 The Methow Valley, in the foothills of the North Cascade Mountain Range, is known for its access to nature, cold winters with abundant snowfall, and hot summers.
The Berm House—part of an artist-in-residence complex under development in the valley—is built into a meadow slope. Its low profile opens to the valley panorama of mountains and agricultural fields while remaining virtually invisible from the residential area to the north. The south-facing building orientation optimizes passive heating, and the large overhang protects from snowfall and intense summer sun. The home is post and beam structure with a cross-laminated timber (CLT) roof, prefabricated in northeastern Washington. The design incorporates Passive House principles including superinsulation and advanced air sealing. Thermal bridges are minimized by wrapping the house in continuous external insulation, including under the foundation, isolating the home from outdoor temperature swings. The beamed roof, with 12-inches of soil, and a green roof adds thermal mass and protection from weather exposure.
Green Design: Passive House principles, superinsulation, advanced air sealing, cross-laminated timber panels, green roof
Building Type


Residential - Custom Home

Mass Timber Scope


CLT Floors
CLT Roof
Glulam Columns
Glulam Beams

Sustainability


North American forests grew this much wood in 20 seconds.

This project kept 156 metric tons of carbon from entering the atmosphere.

This is the equivalent of keeping 33 cars off the road or providing clean power to 30 houses for a year.

Vaagen Timbers Services


Design Assist
BIM, Detailing, and 3D Modeling Work
Conceptual Estimating
Architectural Design and Project Support
Manufacturing and Material Supply
Construction and Installation Support
CLT Panel Manufacturing
GLT Panel Manufacturing
Glulam Beam and Column Manufacturing
Factory Applied Protective Coatings
Mass Timber Hardware Connections Supply
Erection Planning
Consulting Services

Contractor


Methow Valley Builders Inc.

Mass Timber Installer


Methow Valley Builders Inc.